Allebach Photography FAQs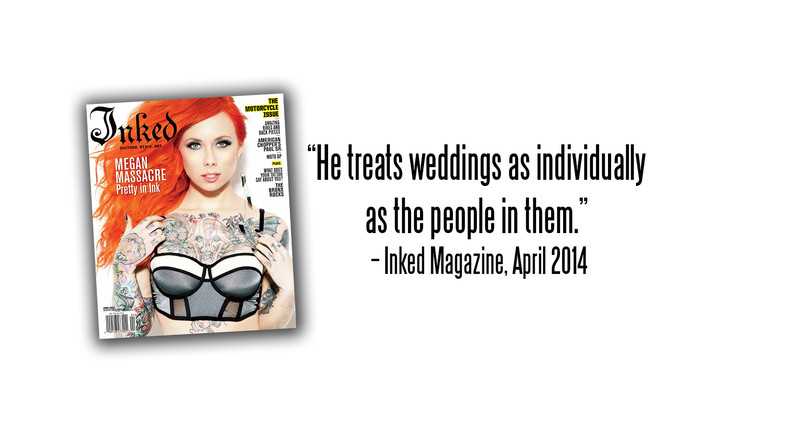 Is you nickname really "The Tattooed Bride Photographer"?
Yes, back in 2009 Rock n Roll Bride called me "The Original Tattooed Bride Photographer." The name just kind of stuck. More recently Inked Magazine called me "The Tattooed Wedding Photographer."

I don't have tattoos but I like your photos, can you photograph my wedding?
Yes! Many of my clients don't have tattoos, they just want someone who will photograph their wedding without reservation. All of our clients choose us because we understand brides that want something a bit different.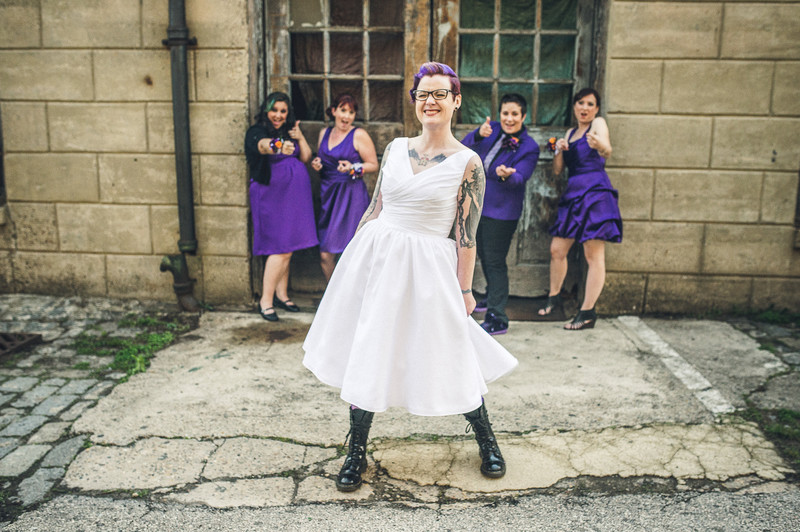 Why do you take photos of tattooed brides?
Short answer: I love inviting people with different ideas in and helping them with their creative vision. For 4 years I was in a punk rock band and thought it would be amazing to see brides with tattoos (at the time I had never seen photos of a heavily tattooed bride)

Do you travel?
Yes, I travel anywhere in the United States. A quickly growing percentage of our weddings occur outside of Pennsylvania.
Does Mike Allebach photograph at all the weddings?
Yes, all wedding photography is handled by Mike Allebach.


I want to book you for my wedding. What is the next step?
Contact us and we will double check that your date is available. If it is, we'll schedule a phone consult, skype or in person meeting. After that all we need is a $1000 retainer (some people call this a deposit) to book your wedding.
Do you barter?
Yes, if you make kick ass stuff it's possible, just ask on the contact form.
I'm a casting agent for a wedding show, are you interested in sending me the info on your tattooed brides?
No, we no longer take inquires from Casting Agents for reality TV. Please stop contacting us, our brides are not for sale.
I have this crazy idea, can you photograph it?
Yes! I help couples with creative visualization for stylized photo sessions they absolutely love.
Do you accept credit cards?
Yep. You can pay with cash, paypal, credit card or check.
I don't like being in front of a camera but I want photos that show my personality, can you help me?
This is my specialty. I will make you feel comfortable on your wedding day. My goal is to leave you with a feeling that a good friend photographed your wedding and got the most awesomest (not a word, I know) photos of you.
How much equipment do you carry?
I have a suitcase full of equipment and backups to all my equipment. This is my life and I take my job seriously.
Are you insured?
Yes, I have both equipment insurance and a $1million liability policy that our insurance can provide to your wedding venue.
How are my photos stored?
I immediately back up your photos offsite and onsite. By the time your wedding photos are processed they are in 3 secure locations across the United States.
What is your wedding deposit/retainer?
$1000. We only accept 1 full wedding a day. So contact us today.
Do you photograph same-sex ceremonies, marriages and weddings?
Yes! I'd love to photograph your wedding. I've been photographing LGBT weddings since 2009!
I really want you to photograph my wedding but ______________________
A lot of people wonder if we can photograph their wedding. Sometimes the best thing to do is schedule a time to talk with me or meet with me.
Do you have a facebook page?
Check it out at http://www.facebook.com/tattooedbrides
What about an instagram?
Sure! http://www.instagram.com/tattooedbridephotoguy
What is your mission?
Just be yourself. My mission is empowering tattooed brides and alternative brides to get the wedding photos that they want. I'm a rock n roll kind of company. I photograph alternative families, tattooed brides, punk rock grooms, steampunk couples, inked brides, gay and lesbian weddings and off-beat alternative couples. No matter what kind of wedding you have planned, I'll accommodate your ideas and make your photos represent YOU!
My clients enjoy the fact that they don't have to pretend, be someone they are not or follow a certain trend. You'll never hear us say, "Let's photoshop out your tattoos" like some other photographers have said. Instead I'll work with you and your style to get you what you want!
Got ideas for a fun engagement session? Let's hear them. I've photographed our clients in bars, restaurants, throwing water balloons, painting each other, meeting up at the place where they met, on earth moving machinery and in an old jailhouse.
Want crazy trash the dress photos? I've photographed couples burning their dress, in prison, jumping in water and throwing paint at each other.
Think your wedding is too weird? It's not. Think it's not weird enough? I love anything that departs from the ordinary but we still photograph weddings of non-tattooed clients (20% of our brides don't have tattoos, some wouldn't consider themselves alternative brides at all).
Please tell me about how awesome your wedding is.