Intimate Sexy Steamy Sensual Romantic Photographer for Anniversary
Looking for an Intimate Sexy Steamy Sensual Romantic Photographer for your Anniversary?
Everyone wants to feel closer and celebrate their relationship on their anniversary. Book an anniversary weekend with Allebach Photography. You won't regret it!
Listen to what a client recently said
"Y'all! And by y'all I mean anyone afraid to do a shoot because you feel ugly, feel fat or <insert reason here>. Facts, I cried last night. For all three of the reasons above, and because I couldn't find any kind of lingerie that I felt comfortable in. Ugly cried! But I got up this morning and drove 2 hours to the studio. The whole way here I was telling myself to just grin and bear it. Well, I grinned, laughed even. And I bared it (most of it anyway). And I feel A-freaking-mazing. I haven't seen the pics yet, but it isn't even about that at this point. Do it! Make the appointment. Make the trip. You will not regret it!"
Here is what another client said about their Intimate Sexy Steamy Sensual Romantic Photoshoot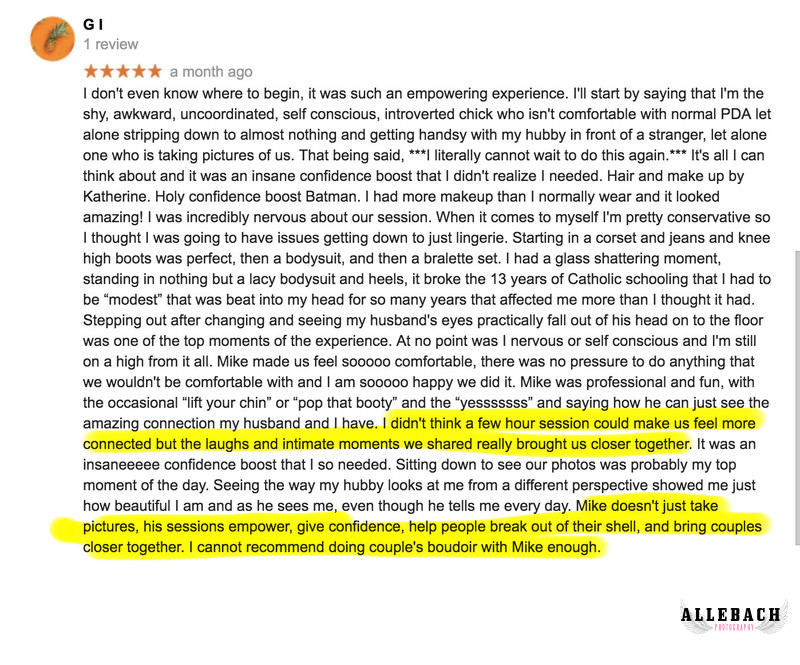 Location: Bensalem, Pa.