Couples Bedroom Photographers
We are the Intimate, Sexy, Steamy, Sensual, Romantic, Couples Bedroom Photographers!
You have landed in the perfect place to get your partner the BEST anniversary gift ever. Feel empowered, in love and honor them for all they've done for you. See yourself in a new light and your relationship in a new light too!
A recent couples bedroom client said:

"I don't even know where to begin, the couple's boudior session was such an empowering experience. I'll start by saying that I'm the shy, awkward, uncoordinated, self conscious, ungraceful, introverted chick who isn't comfortable with most PDA let alone stripping down to almost nothing and getting handsy with my hubby in front of a stranger, let alone one who is taking pictures of us. That being said, ***I literally cannot wait to do this again.*** It's all I can think about and it was an insane confidence boost that I didn't realize I needed. Hair and makeup by Katherine. Holy confidence boost Batman. I had more makeup than I normally wear and it looked amazing! I was incredibly nervous about our session. When it comes to myself I'm pretty conservative so I thought I was going to have issues getting down to just lingerie. Starting in a corset and jeans and knee high boots was perfect, then a bodysuit, and then a bralette set. I had a glass shattering moment, standing in nothing but a lacy bodysuit and heels, it broke the 13 years of Catholic schooling that I had to be "modest" that was beat into my head for so many years that affected me more than I thought it had. Stepping out after changing and seeing my husband's eyes practically fall out of his head on to the floor was one of the top moments of the experience. After the first two minutes of our session there was no point where I was nervous or self conscious and I'm still on a high from it all over a week later. Mike made us feel sooooo comfortable, there was no pressure to do anything that we wouldn't be comfortable with and I am sooooo happy we did it. Mike was professional and fun, with the occasional "lift your chin" or "pop that booty" and the "yesssssss" and saying how he can just see the amazing connection my husband and I have. I didn't think a few hour session could make us feel more connected but the laughs and intimate moments we shared really brought us closer together. It was an insaneeeee confidence boost that I so needed. Sitting down to see our photos was probably my top moment of the day. Seeing the way my hubby looks at me from a different perspective showed me just how beautiful I am and as he sees me, even though he tells me every day. Mike doesn't just take pictures, his sessions empower, give confidence, help people break out of their shell, and bring couples closer together. I cannot recommend doing couple's boudoir with Mike enough."

Let's help you have the photoshoot and experience of your life! Call us at 610.539.6920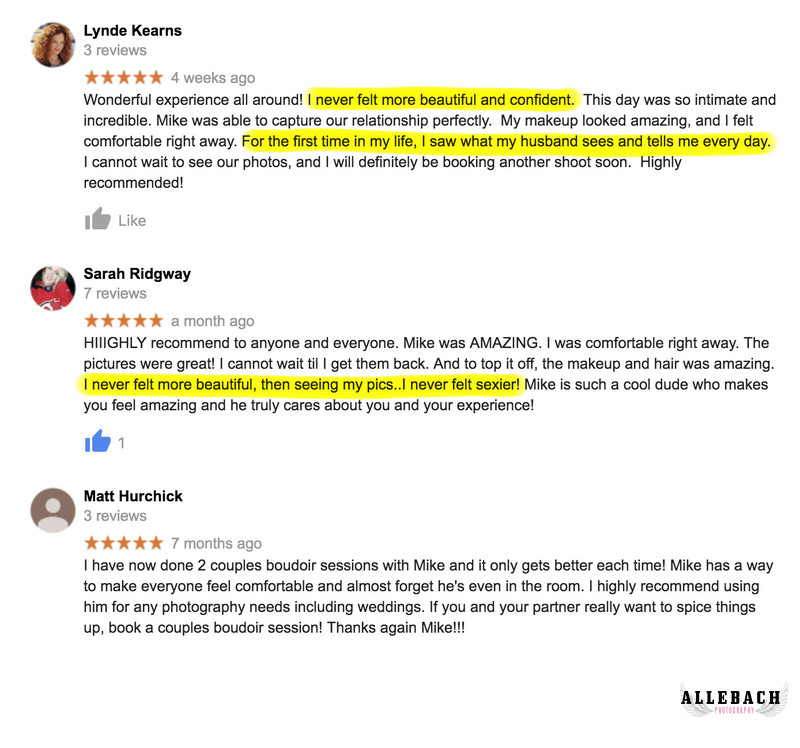 Location: Doylestown, Pa.