Searching for the perfect gift? Look no further. Feel sexy, confident and connected to what matters
"Our Couples Boudoir session has been the greatest gift we have given our relationship." - Kayla C
Philadelphia's Allebach Photography
You Will Feel Beautiful, Comfortable, Connected and More Confident After Your Boudoir Photo Shoot
We guarantee you'll feel comfortable, look beautiful and leave confident after your boudoir shoot. Everyday you go to battle with advertising messages and lies. Magazines yell "get ready for bikini season!" Slowly advertisers erodes confidence by telling us we are never enough. But there is hope...enter Allebach Photography's Professional Studio.
Couples Boudoir & Boudoir Photographers Philadelphia
After boudoir photography you will leave our studio a different person than you walked in as. Whether you decide to give an album to your partner or place artwork above you bed. Imagine seeing yourself in a new light: walking taller, feeling more confident, more connected and sexier than ever. Our photography studio is magical.
Because You Are Goddamn Enough in This Moment
You are so worth it right now. This is the sign you've been waiting for. Don't put this off another day. Because you and I both know life is never quite perfect. It's time for your boudoir shoot!
Fast forward to you, 98 years old, sitting at crochet club, showing off your boudoir to Betty and her band of badass bitches. Imagine hearing them all scream "damn girrrrrrlll"
Boudoir has no age limits. At Allebach Photography we photograph every-body. All races, genders, shapes, sizes and orientations.
Bring all of your natural glory, every goddamn tiger strip you've earned, every roll, insecurity, scar and story. Bring it on!
Best Gift Ever: The Couples Boudoir Experience
Ok so you've finally found the one or want to celebrate your rock. Maybe you've become a parent and are trying to connect back to the identity of a couple. Couples boudoir is the gift that leaves you feeling sexy, connected and confident. It's not only a gift you give your partner but a gift for your whole relationship.
The only thing you'll regret is not doing this sooner.
Strip down to level up your relationship.
As the world continues to throw rocks and pop quizzes at your relationship, the artwork in your home will serve as a constant reminder. Celebration of your human. Give them the best gift ever. Create some awesome artwork to remember this experience. Show your twin flame, the yin to your yang, how much they mean to you. Because deep down, you know you don't say it or show it enough.
Give the gift of connection. Give the Couples Boudoir Experience by Allebach Photography.
Celebrate your relationship! Explore your relationship in a new light, spark that fire, feel alive, adventurous, excited, erotic, sensual, passionate and just plain Sexy AF. Maybe you've never resonated with any of these things. So here is your chance. This might just be the best date you've ever been on. You'll finish with art for your home, that you can look back on and say holy sh*t....this...is...us.

At Allebach Photography we believe everyone deserves to be close and get quality time and to have artwork that anchors them to their love through Couples Boudoir.


1. Your photographic experience begins with a phone call where we will take you on a journey. Together we'll develop a plan to see yourself and the people you value the most in the best light. We'll discover those moments you can't get back. If you've never done something like this before, we'll make sure you feel comfortable every step of the way. Schedule your discovery today.

2. You'll feel empowered, uplifted and like a badass rockstar as we capture photos. We are LGBT friendly and body positive, so whatever labels you do or don't use, we've got you! Most clients start their session with hair & makeup at our studio. This prepares you to feel your best. We create a space for you to be comfortable and celebrate! Most portrait sessions happen in our Loft Studio in the suburbs of Philadelphia but we are glad to come to you as well. We want your permission to be relentless in capturing what is unique about you and your relationships. Schedule your portrait session today .

3. Your cinematic premiere is the best part! You'll see your photos projected for the very first time in our design studio. Select the ones you love and we'll design artwork for your home together. Your design consultant makes deciding easy. We offer albums and wall art to fit your home and lifestyle. This artwork will serve as a daily reminder of what is most important to you. This is when the magic happens.
Your artwork order will be placed at the end of your cinematic premiere to be in your home in less than six weeks. You are going to love what we create together! Book Your Photographic Session Today
Create Custom Artwork
Every couple crafts artwork from their photo experience. This artwork anchors you to the moments and things you love best about your partner. Imagine waking up everyday and seeing beautiful artwork created from your bodies on display in your room. Take a look at some of our artwork here: Artwork for Your Home
Privacy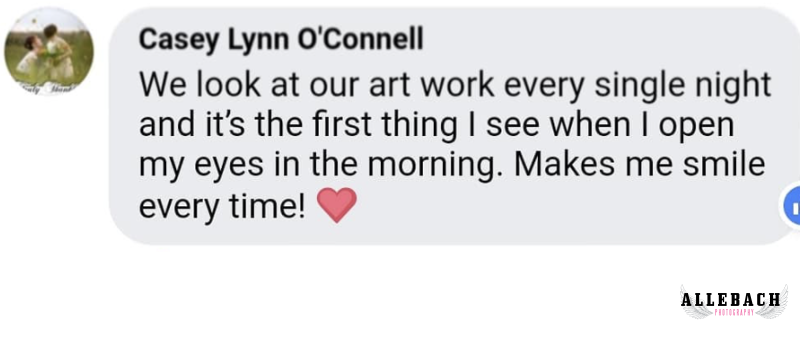 We will not share or show your photos unless you ask us to. The couples you see on our website have expressly asked us to show their photos because they were so in love with them. We photograph private sessions for CEOs, Lawyers, Doctors, Teachers and Entrepreneurs. Your boudoir session is private.

Every couple deserves a couples session because life is too short to feel distant. Get closer and then get closer in the studio. Call us today at 610.539.6920 or visit our contact page
"Allebach Photography will make you feel completely comfortable and capture the most wonderful photos! I have booked with Mike for both a boudoir shoot and family portrait shoot, and was overwhelmingly excited with the results! He's simply the best there is!" - Dayna D

Couples Boudoir FAQ
Will I Feel Comfortable During My Session
Can I do this? I'm over 50 years old!
Many of our clients find their human between 45 and 60 years old. We ABSOLUTELY love this. Finding new love after years of passionless relationships is the best. When you finally find your human and you know it, we want to be there photographing it. Let's celebrate the person who is the ying to your yang and the rock that you hold onto.
How much clothing do we have to take off during the boudoir photoshoot?
Just get as comfortable as you want during your photoshoot. A couples boudoir session is very similar to a couple session which is fully clothed. So it's up to you. Most couples get fully nude at the end of their session wrapped in a sheet. Some couples keep their shirts on. This is what makes the session adventurous, you might decide what you think you'll want to do and during the session get more nude than you thought!
"I have now done 2 couples boudoir sessions and it only gets better each time! Mike has a way to make everyone feel comfortable and almost forget he's even in the room. I highly recommend using him for any photography needs including weddings. If you and your partner really want to spice things up, book a couples boudoir session! Thanks again Mike!!!" - Matt H
P
How do I know if I found the right boudoir photographer?
Be sure to check our the boudoir photographers in the Philadelphia area. With boudoir photography it comes down to the products and albums they offer, their photography portfolio and their personality. It doesn't matter how awesome their photos are if they aren't fun to be photographed by!
What if I feel like I don't have the right body for boudoir?
Couples boudoir and boudoir is for EVERY BODY type. Couples boudoir is by nature a body positive experience. Many times our partners love our bodies much more than we love our own. This experience helps people who feel too skinny or too fluffy to fall in love with themselves through their partner's eyes. So bring your body to the session and we'll make you feel comfortable! We love curvy bodies, we love skinny bodies and we are body positive boudoir photographers. Like Nirvana said "Come as your are."
Do you photograph full nudity and fine art nudes?
Yes we can photograph you or you and your partner fully nude. We are primarily boudoir photographers. Anything you'd want to see in an album or on your walls we'd photograph. We don't make videos though.
Are your photos of professional models?
No, we do have "model calls" to find people comfortable with sharing their photos. We do not photograph professional models for couples boudoir though. All couples shown are real couples in real life!
Is my boss going to see these photos? Are they private?
All of our sessions are private for your eyes only unless you decide you want to do a model call or sign a model release. Most of our clients are private people.
Can I have a female or male boudoir photographer?
Yes! We are a unique photo studio in this regard. At Allebach Photography for solo boudoir you can choose a male or female photographer. The full experience includes 2 boudoir photographers for your solo session. We recommend both boudoir photographers to most solo boudoir clients. Couples boudoir sessions are photographed by Mike Allebach only.
Can I just watch you photograph boudoir of my partner?
Sure you can watch us photograph your partner but you have to be in a few pictures yourself. It's only fair. Just as friends are allowed to come alone for our regular Boudoir session when they book their own session, we allow for watching. Positive vibes only.
How Many Boudoir Photographers Do You Have?
We have 2 Boudoir Photographers at the moment. Most solo boudoir photo shoots are photographed by both Mike & Erika.
Is your Boudoir Studio LGBTQ & Poly Friendly?
The majority of weddings we photograph are LGBTQ. We've been photographing LGBTQ couples for over 10 years in New Jersey and the Philly area.
Do we get to have sex during our couples boudoir photo shoot?
Couples boudoir is over an hour of foreplay. This isn't Mortal Kombat, we don't photograph your finishing move. Depending on your definition of foreplay, this might be. These are meant to be beautiful photos for your home. Squeezing, hugging, caressing, holding and grabbing is what we photograph. We are creating art you'll want to hang in your home. We can photograph you both full nude if you'd like but we don't make films or video.
Can you fly to us for a couples boudoir session?
Yes we can, just ask. Since we are close to Philly and known as a Philadelphia Boudoir Photographers, most couples in the end decide it's better to come to our specialized studio in the suburbs. Make a weekend getaway of it. Because who doesn't need more quality time together?

What happens if I get aroused while my couples boudoir photos are being taken?
If it happens, it's natural. If it doesn't that is fine too. Sometimes it happens and sometimes it doesn't. We do everything to make you comfortable. I tend to crop in a bit more on the upper body when it happens unless you request otherwise. Couples boudoir is about getting closer and connecting. Letting the world around us fade away. When we feel free, our bodies respond in kind. Rest assured you will feel comfortable being photographed, every couple does. If you need to take a break you can. Since this is the focus of my business, you are in good hands, each others ;)
Do you offer hair & makeup for boudoir?
Yes, we designed a whole room for that! Hair & Makeup for 1 person is included. If you both want hair & makeup please let us know so that we can make arrangements.
Can I bring booze to the photo studio?
You can bring 1 bottle of beer or champagne along if you'd like. You need much less liquid courage than you might think!
Do you make boudoir films?
No, I'm not a videographer. I stick to making boudoir art work for people's homes whether it's albums or wall art.
How long does the boudoir process take?
You are at the studio for around 5hours between hair & makeup, photographing and creating art for your home. Couples generally take a day off from work or fly in and spend the weekend connecting.
When do we design the couples boudoir or boudoir photography artwork?
Almost always right after the boudoir photo session. We put together a little slide show of your photography and you'll see them in our design and gallery space.
How far is your professional boudoir studio from the Philadelphia Airport?
We are about 45minutes to 1hour from the Philadelphia Airport or Downtown Philadelphia. There is a train that goes directly from Center City Philadelphia to our door. You can also take transportation from Trenton, New Jersey at the Amtrak station. If you need a Philadelphia Boudoir Photographer, we're here to help!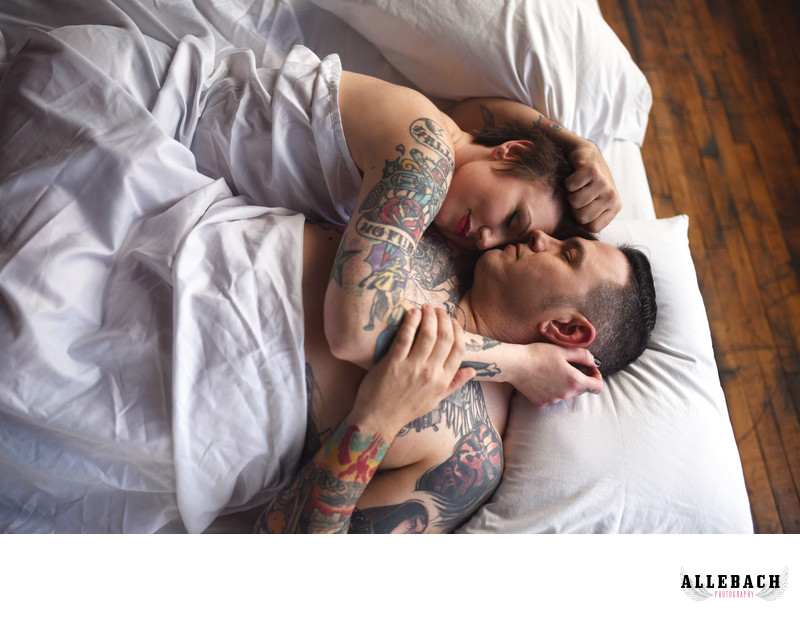 "The photos turned out amazing. I did not know Mike prior to finding him on a google search for a Philadelphia Boudoir Photographer, but I'd consider this the best blind contact I've ever had. Mike arranged make-up (and his make up artist is a sweetie), has a kick ass LARGE studio with lots of special touches to make the pictures great. I'm a very private person, and Mike accommodated that. He didn't blast out photos with out our consent. He let my husband do what we wanted, without demanding us to do anything we didn't. I think every couple should use Mike. There wasn't a bad picture in the group. The lighting was on point. Props were great. The list goes on. " - Jodi E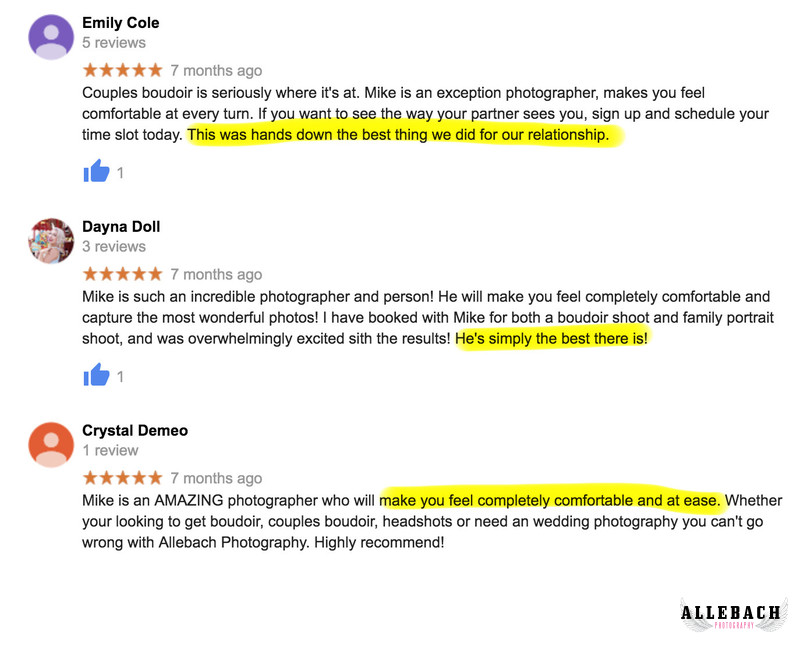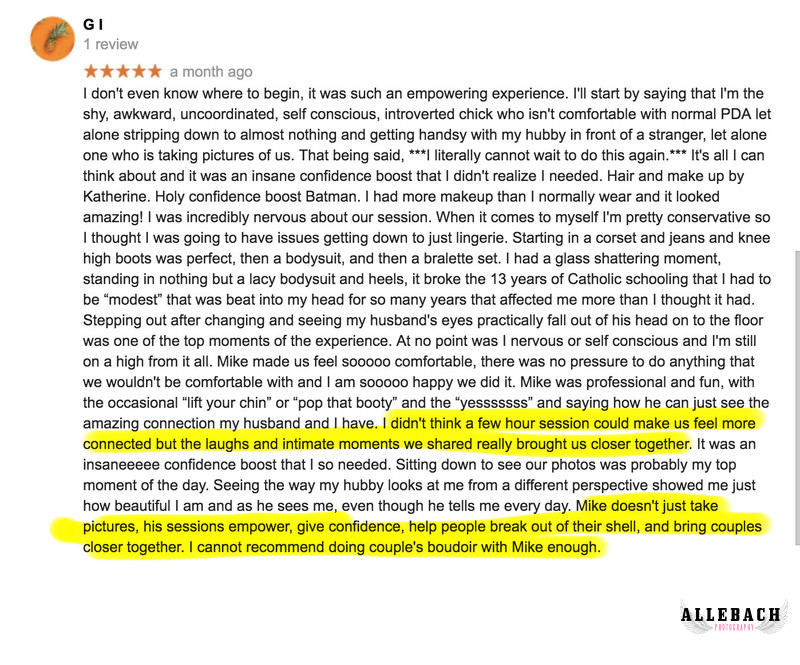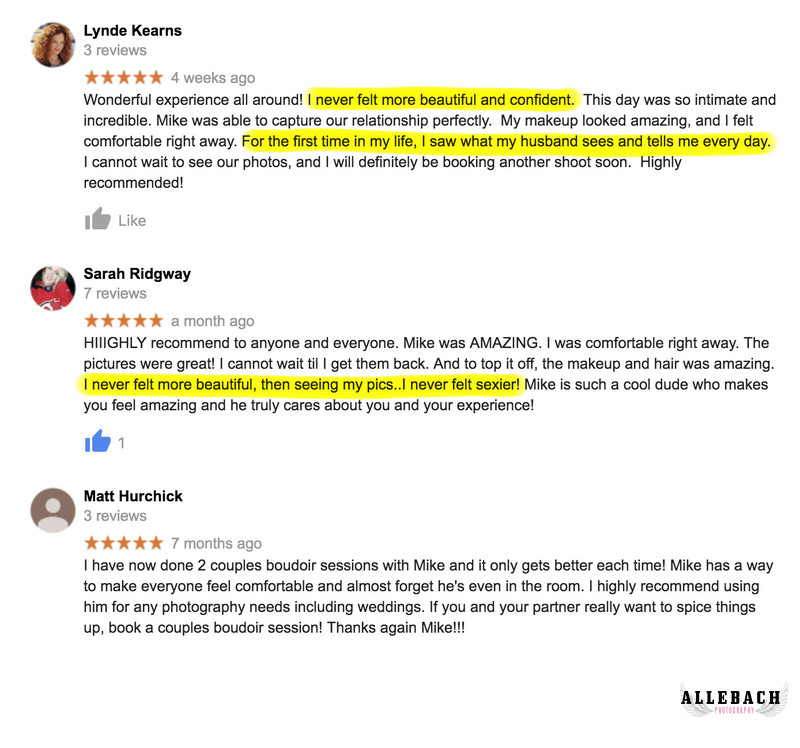 Every one deserves to feel sexy. Call us today at 610.539.6920 or visit our contact page


Allebach Photography is a professional boudoir studio located in the Suburbs of Philadelphia
Only 5 Hours From Boston and Virginia Beach
Approx 3 Hours from Washington DC, Long Island New York and Connecticut
Approx 2 Hours from Manhattan, Brooklyn, Harrisburg, Baltimore,
60 to 90 minutes from most parts of New Jersey, Northeast Philadelphia, Lancaster County, Lititz, Delaware County, Trenton, Hoboken, Jersey City, Hamilton, Central Jersey (if it exists)
Minutes from Audubon, Bucks County, Doylestown, Bensalem, Bristol, Collegeville, Phoenixville, Lansdale, Souderton, Telford, Quakertown, Montgomeryville, Ambler, West Norriton, Blue Bell, King of Prussia and Langhorne

Philadelphia Boudoir Photographer
Mailing Address: Allebach Photography 403 E Walnut Street, 2nd Floor, North Wales, Pa 19454
Call us at 610.539.6920